Finally six months after its launch, Yahoo! Buzz is now open to the public. The announcement follows several months of beta testing the service to selected sites, including the SE Journal. Yahoo claims that Buzz now has around 5 million users and sites which were selected to implement the content voting system has indicated increase in traffic since they embed the Buzz button on their site.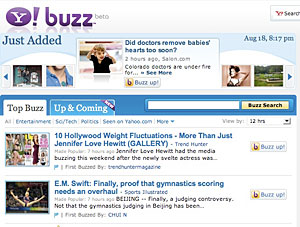 With the good feedback coming from early adopters, it is but logical that Yahoo opens up its Yahoo Buzz to the public. And it looks like Digg has got some competition now in the site voting niche. Although Digg has been around for quite some time now and most of us are already accustomed to the Digg culture, Yahoo Buzz though poses one advantage. And that is, content being buzzed up can be easily featured on Yahoo search page.
To embed the Yahoo Buzz button on your page, just head on to the Yahoo Buzz code site and choose the Buzz widget that you would like to put in your respective sites.